The Programme Development
An impact assessment of TIPA's Programme 2016-2020 was carried out, with the input of primary actors and partners. A SWOT analysis was facilitated with all TIPA team members. In addition, collective harvesting workshops with primary actors and partners provided valuable insights on achievements and recommendations for future programmes, as well as improvement of operational systems at TIPA.
Based on these findings, the following strategies will be implemented by TIPA for the period 2021 – 2024
The programme 2021-2024 aims at reinforcing TIPA's actions on the field, while guiding our team on the interventions which will increase the NGO's impact on the central actors. Data collected from the impact assessment report 2016-2020 demonstrated that the application of the theory of change on the field provided further insights on how to build better participatory communities, so the vulnerable child may benefit from an enhanced learning experience both at school and at home.
The programme 2021-2024 is hence a continuity of the programme 2016-2020, during which the theory of change was developed into "practices of change".  The team at TIPA is now well-versed with this approach and will adjust its interventions according to the evolution of the field needs and lessons learnt.
The interventions for the programme 2021-2024 comprise of 7 activities which have been segmented into three interrelated projects:
Engaging children in their learning process,
Involving parents in children's education,
Encouraging educators towards a participative approach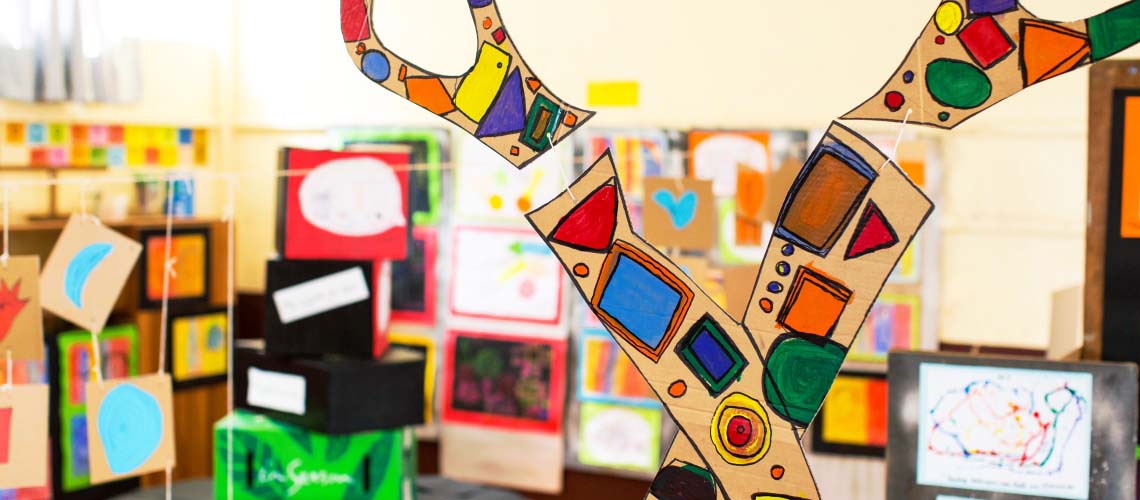 The TIPA programme 2016-2020 announces a paradigm shift from a classical approach that is project-centered to a more empowering approach centered on the actors of the project driven by the theory of change. Actions are now tailored to include as much participation as possible from the various actors. The implementation process focuses on ways to co-create the actions with the actors' participation while giving a collective meaning and purpose to the intervention. Results are expected in terms of change for the actors and not just in terms of activities implemented and number of beneficiaries.
Vision of change for the programme
The vision of change aimed by this 5-year Programme is: "Parents, Children, Teachers, Ministry Of Education and Human Resources and Citizens work together to help every child achieve his potential and participate in the country's development." Vision and pre-conditions of change have been brainstormed for every actor involved in the process.
According to these preconditions, we have elaborated the following four Projects through which TIPA wants to contribute to the vision of change.
A
Confident & Participative Children
Creativity Classes

Class / School Events
B
Collaborative Educational Environment
Creativity classes: Collaboration and follow-up with teachers

Team Building

School Neighbourhood Site Visits

Follow-up of children in difficulties
C
Sustainable Communities
D
Innovative Practitioners
In order to have long lasting and sustainable impact on the final beneficiaries (vulnerable children), we are working with different target groups: teachers, parents and local community actors.
Other target groups include school non-teaching staff, other NGOs working in TIPA's areas of intervention, governmental (Ministry Of Education and Human Resources), other institutions working with the same beneficiaries, volunteers and the artistic community in Mauritius.
TIPA considers all these as indirect beneficiaries of its action as they will also benefit from the Programme by acquiring knowledge and improving their skills or by the results of the Programme such as increased awareness about arts, education, citizenship values, etc.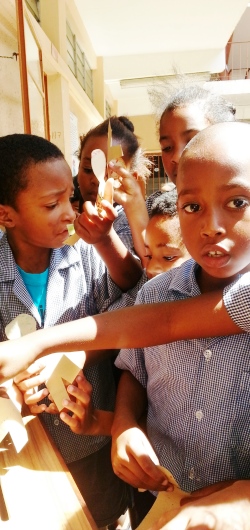 Vulnerable Children
The direct beneficiaries are pupils between 3 and 12 years old who come from families facing socio-economic difficulties. They attend 3 ZEP (Zone d'Education Prioritaire) schools in the sub-urban deprived areas of Port Louis, namely Tranquebar, Vallijee and Pointe Aux Sables. The schools were chosen with the insight of the ZEP Unit, based on needs.
These vulnerable children face social issues that negatively affect their social, cognitive and moral development. Moreover, our island's education system focusing mainly on academic performance; quickly exclude these children from the expected educational pathway. The result is lack of self-esteem due to repeated failures. This context perpetuates the poverty cycle among socio-economically vulnerable families. TIPA aims at helping these children through a holistic and innovative educational approach favouring the overall development of the child.
TIPA's Programme aims at contributing to the following change concerning vulnerable children : "Children feel respected, are confident and express themselves freely. They are self-motivated and want to participate". Two actions are implemented to this effect: weekly creativity classes and class / school event.
Creativity classes consist of visual arts and drama workshops conducted by experienced TIPA art facilitators in collaboration with the teachers, from pre-primary unit to Std VI. Each session aims at stimulating the kids to experience situations in which they are encouraged to participate and show respect towards their friends, the material and equipment they use, their work, and towards the class rules. The introduction and conclusion are key moments for the kids to participate by fully expressing their opinion on the topic discussed. The art facilitator and teacher encourage the pupils to share their views about the work they created, to say what they like and dislike in their artwork and what they think they could improve and how. The class / school event will motivate and value children's contribution in the school life. These shows, activities or events will be initiated by the children, teachers and parents, and will be prepared in close collaboration with the TIPA staff, according to their needs and resources.
Parents
Researchers have also found that creating ongoing relationships with families and communities was equally positive in maintaining positive classroom environments. It is necessary not only to value and assure the child of his or her importance, but also to appreciate what families know and can do. Educators can do this by showing respect for all families and be knowledgeable of the cultures in which students live. The earlier in a child's educational process that family involvement begins, the more powerful are the effects. The most effective forms of family involvement are those that engage families in working directly with their children on learning activities at home.
TIPA's programme aims at contributing to the following change concerning the parents: "Parents are engaged in their child's education; they have good relationships and trust the school staff".
The Parents' Club is implemented in order to raise awareness of the parents regarding the difficulties and opportunities they meet concerning their children's education. These practices include tools to better communicate with their children and also to help them relax and face challenges with new perspectives.
The Parents' Club is a ZEP project to which TIPA contributes on a monthly basis. The aim of this project is to sensitize the parents about the importance of getting involved in the education process of their children, and also to promote alternative educational practices that can be used at home.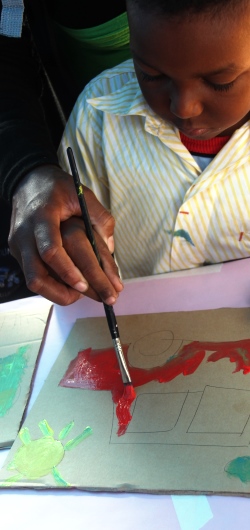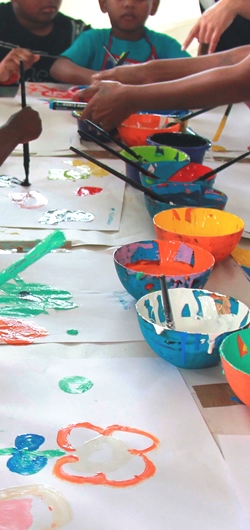 Teachers
Teachers make the difference for students living in poverty and need to be better trained and supported. Often, children living in poverty give up on school because of low self-esteem. Almost as often, teachers give up on children because of a perceived lack of trying and unwillingness to learn. Research has shown that one person can and does make a difference in the life of a child, and children living in poverty need the teacher to be the person who believes in them and provides a reliable, positive relationship. Researchers have concluded that focusing on assets—not on deficits—significantly contributed to a child's success in school. It is imperative in building a positive classroom environment that the teacher continues to model genuine acceptance of all the children. By believing in a child, cultivating positive relationships, and offering meaningful activities, teachers can build positive classroom environments that positively affect the child for life.
TIPA's programme aims at contributing to the following change for teachers: " Teachers feel confident about their profession, they have good relationships with parents, pupils and colleagues." To this effect, we are working in close collaboration with the teachers during the elaboration, implementation and evaluation of the weekly creativity classes. TIPA's Programme also includes teachers' follow-up, Teambuilding sessions and teachers visits in the school locality.
TIPA's intervention intends to bring new perspective to school teachers and facilitators from other NGOs, through training sessions and seminars.
TIPA also contributes to the MIE (Mauritius Institute of Education) through training of teachers and on the conception of the Teaching of Values and Citizenship Education Training Manual. The ZEP unit also called upon TIPA in the elaboration of ZEP phase II, comprising (among other aspects) Continuous Professional Development workshops with all ZEP teachers.
The teachers can be empowered from their initial training at the Mauritius Institute of Education, as well as during in-service training. In collaboration with the MIE, TIPA provides occasions (during trainings and seminars) for educators to search for, use and share educational tools and activities that value children and their progress in class with their colleagues.
ZEP Schools
In 2005, the Ministry of Education and Human Resources (MOEHR) launched the ZEP initiative (Zones d'Education Prioritaire or Priority Education Area) with the goal of addressing the issue of low achieving schools. A school is classified as "ZEP" when the rate of CPE exam success was below 40% over five years. This initiative encourages school staff, parents, civil society organisations, private sector, non-governmental organisations (NGO) and community-based organisations to develop a synergy that contributes to the improvement of the quality of teaching and learning in the primary education sector. The initiative is "based on the premise that positive reinforcement is required to create favourable learning conditions for children living mostly in the less developed regions" . TIPA chose to focus our intervention in ZEP schools as we believe that children living in poverty need more support to be given equal opportunities In addition, addressing the development of children attending high poverty schools is in line with the Government policy concerning poverty eradication, as well as the ZEP Project Phase 2. Indeed, the ZEP Project aims at "Breaking the cycle of poverty through EDUCATION", by:
Providing equal opportunities to all children
Reducing school and social inequalities
Mobilising all resources/partners
Promoting an appropriate pedagogy : Inclusive, Integrated, Flexible and Child- centred
Raising standard of achievement of pupils/schools
TIPA Programme aims at impacting directly on 6 ZEP schools and indirectly (through the ZEP II Project), to the 27 ZEP schools in Mauritius.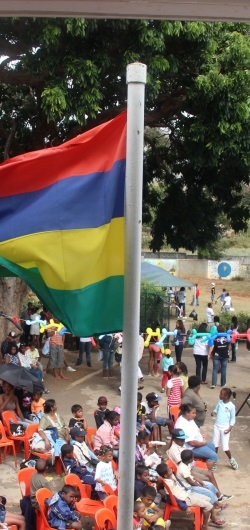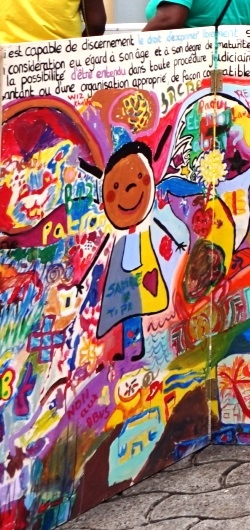 The Community
The community at large, including volunteers, are resourceful actors of the school community. TIPA has had the opportunity to collaborate with some of them in the past and they expressed the desire to renew their participation. According to their desires and ideas, TIPA elaborated a new action: Community Workshops.
The Community Workshops are, designed to contribute to the following expected change:
Children feel important, they are motivated and want to share their knowledge with other people.
Parents are engaged in their child's education; they have good relationships and trust the school staff.
Artists participate in children's education, in collaboration with educational actors: teachers, parents, NGOs etc.
Volunteers engage in educational activities and advocacy with social actors.
In order to further encourage the participation of volunteers and NGOs, TIPA will be involved in networking activities aiming at advocating and raising awareness concerning the children's right to quality education. TIPA will work closely with other NGOs in order to help the Ministry of Education in its educational mission. We are planning the following activities:
Advocacy and recommendations for policies (Laws / bills) concerning education
Public sensitization concerning educational issues and children's rights
Improvement of synergy in the educational system, through our involvement in the sub committee "education" of the KDZM (Kolektif Drwa Zanfan Morisien)
Sharing the success with Community
Art'la li la Festivals: giving value to the children's work
TIPA team organises an Art Festival (and other school events) each year in close collaboration with community actors (school staff, parents, volunteers and artists) in each of the schools where the Project is implemented. This event aims at giving value to the children by showing the work they produced during the creativity classes.
This is done through an art exhibition and a drama show. The festival also aims at sensitising and mobilising the community to contribute to the improvement of the quality of teaching and learning. During the day, the participants celebrate Mauritian art and culture: local artists conduct art workshops for the kids and their parents on a voluntary basis and TIPA team thanks them for the time they give to the cause.
Facilit'Art: Sharing of good practices – Development of life skills through Arts
This project aims at sharing TIPA's know-how with other educators and NGOs acting in the same area of intervention, thereby empowering educators and local community workers to improve their action in the field.
The features of the education system in Mauritius contribute to a relatively high percentage of school failure and a high attrition rate. The vocational and informal education sector has to deal with a large population of children facing severe socio-economic problems and many of them presenting behavioural difficulties.
The working context of the educators is difficult and few NGOs' staff have received specific trainings and require more tools. For this purpose, TIPA finds it important to share the best practices that have been developed in the area of child development, interactive pedagogy and artistic education, since 2007.
The Facilit'Art Sharing of good practices also aims at encouraging TIPA's own staff to review their approach and learn from other experiences. The project includes practical and theory sessions where the participants are encouraged to explore art techniques and the interactive pedagogical approach. They are expected to interact, share their on-field experiences and elaborate pedagogical tools which can be used and adapted to their work context. The workshops are open to facilitators, educators, artists and teachers working with vulnerable children from any part of Mauritius. The program consists of the following themes: Child development, Interactive pedagogy, Development of artistic activities, Art workshops, Assessing methods, Positioning and local situation. Site visits are performed to support the implementation of acquired skills and pedagogical tools developed together, back on the field.
This project consists of 11 full-day sessions, 2 follow-up sessions and 3 site visits for each participant, all spread over 8 months.